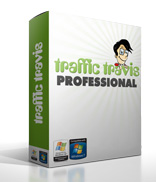 Traffic Travis is available in two versions. The free version which has limited features and abilities or the pro version which is a once off payment. Traffic Travis is desktop SEO software created by Affilorama Group – an Affiliate Marketing Portal. It is designed to help both new and established online businesses boost their traffic.
Due to the vast amount of uninformed and misleading literature on the internet, many website owners struggle to optimize their website for maximum traffic and profitability. This is a huge problem now that the internet has become an integral part of almost every industry around the globe.
Traffic Travis turns online marketing into a series of simple steps covering market research, search engine optimization and building profitable pay-per-click campaigns. This unique approach levels the playing field for businesses of all sizes and types, ensuring a profitable future online, no matter what the experience or budget.
Traffic Travis Working Review
Here at iMoneyBuzz.com, we often use Traffic Travis for the main features which include analysing new web pages to ensure they are search engine friendly, analysing potential keyword to find our competitors and their strength of their back linking campaigns. This tool is particularly useful as it even goes as far to tell you the H1 tags of your competitors which is a major factor in onsite SEO.
It also allows you to track keyword positions in the search engines as well as PPC analysis. If you are a newbie to using this type of software, there is nothing to worry about as the admin interface is delivered in an easy to use format. You also get the double added bonus of useful resources recommended by Traffic Travis for topics such as keyword research and SEO techniques.
Opt for the free version of Traffic Travis or buy the professional version for a one off payment of 97 dollars. Either way, you can not go wrong with Traffic Travis when analysing your sites success and deciding on future goals for your internet presence.